Bufftech Vinyl Fencing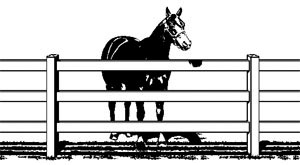 The High-Quality brand of Certain Teed, a world leading manufacturer of building materials brings Bufftech Vinyl Ranch Fencing and a wide-range of vinyl fence products.
Having developed a state-of-the-art co-extrusion process to produce vinyl fencing, resulting in higher concentration of UV protection in the outer cap, while also rpoviding for exceptional impact resistance through the fence, Bufftech layers cannot separate.
• Lifetime Non-Prorated Warranty • All Smooth Safe Surfaces • No Protruding Fasteners • Never Rots, Chips or Peels • Never Needs Painting • Withstands Temperature Extremes • U.V. Stabilized for Long Lifetime • Impact Resistant • Stays Flexible •
Lineal foot prices are complete with line posts 8′ on center, rails, post caps and lock rings.
| | |
| --- | --- |
| 1½" x 5½" Rails have supporting internal ribs. Lock rings fasten the rail within lines, ends or corner posts. | 2″ x 6″ Hollow Rail for Big Four Rail Vinyl Fence is a stronger rail design, recommended for paddocks and small corrals. Recommended where regular impact is probable. |
Two Rail Vinyl Fence

Finishes with 36″ Top Rail Height, Post set 30″ Deep. Two Rail is not suitable for animal containment.

$3.57 per lineal foot

1½"x5½"-16′ Ribbed Rail
$ 14.50
5″x5″-68″ Line Post
$ 12.70
5″x5″-68″ End Post
$ 12.70
5″x5″-68″ Corner Post
$ 12.70
Internal Post Cap
$ 1.30
Lock Rings
$ 0.18
1 1/2″ x 5 1/2″ Gate Kit (8′ Max Length)
 $ 269.00

Three Rail Vinyl Fence

 
Finishes with a 52″ top rail height, post set 30″ deep.

$4.57 per lineal foot

1½"x5½"-16′ Ribbed Rail
5″x5″-7′ Line Post
$ 14.50
5″x5″-7′ End Post
$ 13.50
5″x5″-7′ Corner Post
$ 13.50
Internal Post Cap
$ 1.30
Lock Rings
$ 0.18
1 1/2″ x 5 1/2″ Gate Kit (8′ Max Length)
$ 320.00

Four Rail Vinyl Fence

Use with 2″ x 6″ Ribbed Rail for a stronger rail design. Best for paddocks and small corrals. Larger Ribbed Rail provides flexibility and strength when regular impact is probable. $7.72 per lineal foot
2″x6″-16′ Ribbed Rail
$ 21.20
5″x5″-8′ Line Post
$ 15.50
5″x5″-8′ End Post
$15.50
5″x5″-8′ Corner Post
$15.50
Internal Post Cap
$ 1.30
Lock Rings
$ 0.18
2″ x 6″ Gate Kit (8′ Max Length)
$ 330.00